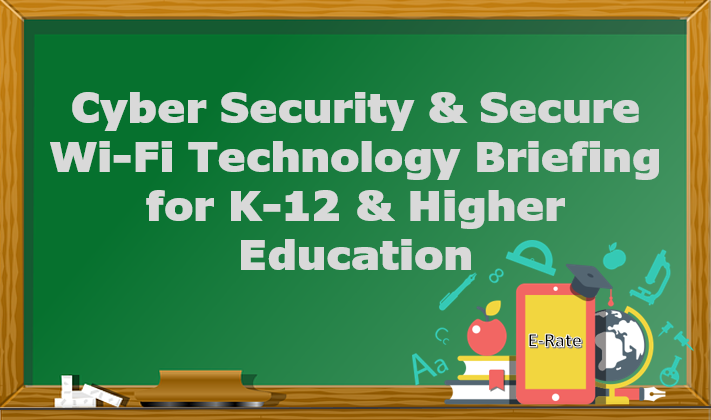 Join us: Thursday, October 17th at 10am

Webinar Description
Protecting K-12 and Higher Ed networks is a sensitive and critical undertaking. Our webinar will outline how academic institutions can enhance their cybersecurity and secure Wi-Fi infrastructure. We will also cover new developments in E-rate funding for these services.
Agenda:
K-12 and Higher Ed Case Studies with specific use cases and benefits for academic institutions
The current state of eRate funding for cybersecurity solutions and secure Wi-Fi and proposed changes
Using eRate for managed cybersecurity services and managed secure Wi-Fi
Updates on FCC rule changes for eRate Category 2 funding for cybersecurity and secure Wi-Fi
Speakers:
Bob Richter, President – E-rate Provider Service
Don Gulling, CEO – Verteks Consulting
Bob Richter has broad and deep experience with the E-Rate Program from both the applicant and service provider perspectives. From 1996-2003, Bob was the Executive Director for Technical Services of the Hartford Public School System in Hartford, CT. During his tenure, he had direct responsibility for all Universal Services Fund activity.
The E-rate applications he submitted achieved over $35,000,000 in Federal funding for the school district and city libraries. From 2004-2009, Mr. Richter was the National E-Rate Program Executive for the IBM Corporation, supporting IBM teams and clients in the K-12 education industry in the east coast of the United States. He established the E-rate Center of Competence which provided internal and external oversight for all E-rate activities. Under Mr. Richter's direction, the Center was responsible for over $650,000,000 in E-rate funding commitments. His management activities included assurance of program compliance, internal staff training, ongoing evaluation of program rules, contract review, development of marketing strategies, and sales support.
If you can't attend please email Brittany DuPhily at BDuPhily@verteks.com and once the webinar is over she will be happy to email you a copy of the recording.