Software-Defined Networking
Growing businesses with multiple branches strive to simplify their connectivity across offices and remote locations.
Software-Defined Wide Area Network (SD-WAN) is a virtual WAN architecture that allows enterprises to leverage any combination of transport services – including MPLS, LTE and broadband internet services that securely connect users to applications. SD-WAN promises to dramatically impact the entire enterprise networking ecosystem. With SD-WAN, geographic boundaries are erased, and key benefits such as visibility, scalability, and performance are enhanced.
The downside with MPLS.
Traditional Multiprotocol Label Switching (MPLS) connections offer an excellent quality of service when it comes to avoiding packet data loss while maintaining data traffic flow. In this day and age, bandwidth consumption keeps getting higher, which leads to greater costs.


Ditch your MPLS connections and slash connectivity costs with SD-WAN.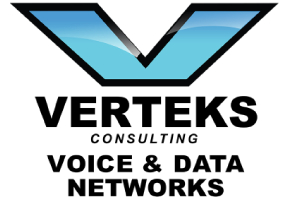 SD-WAN enables a dramatic impact on the whole enterprise environment. Switching to SD-WAN removes geographic boundaries. and unlocks enhanced visibility, scalability, performance and user control. Also, SD-WAN is able to use Internet broadband and 4G LTE, both of which are less expensive than MPLS for lower-priority traffic.
Networking Services from Verteks Consulting include Software-Defined networking service installation, modification, and support.
When you partner with us to take the reigns on your data and network security, we will equip your network with the latest SD-WAN technology. Our highly trained networking specialists will work with you to attain the best data connection and help develop network protection for your business. We take the security of your IT very seriously and will keep downtime-inducing threats, such as viruses, malware, worms, trojans, and spam from entering your networks.
Our goal is to enable our clients' full confidence in their networking systems while lowering the costs.