RingCentral for Microsoft Teams
Reliable and Powerful Calling for Microsoft Teams.
Cloud PBX for Microsoft Teams Small and mid-sized business edition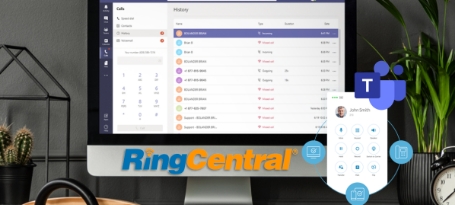 Do you want to get the most out of your Microsoft Teams investment? Then turn to RingCentral Cloud PBX for Microsoft Teams—the winning combo for faster productivity, stronger reliability, and tighter security.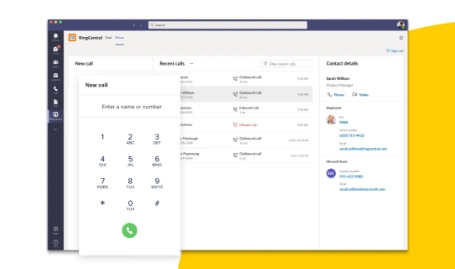 If your business is up and running with Microsoft Teams, let RingCentral help you finish the job. Upgrade your Microsoft Teams setup to include enterprise-grade telephony, no matter your business size. How is this possible? Through the power of Direct Routing.
What is "Direct Routing"?
Microsoft Teams Direct Routing allows a business to connect Teams to the PTSN, or traditional phone network. That way, you can easily make—and take—calls via Teams on any device.
With RingCentral Cloud PBX for Microsoft Teams customers benefit from:
Native app experience
PBX natively integrates into Teams - telephony is accessed through Microsoft Teams app
Simple to manage and use
Works on desktop and mobile endpoints
Robust PBX
Rich Cloud PBX features - phone functions, call queueing, and more
Analytics and Live Reports for data-backed decisions
Leading UCaaS innovator with industry recognition and awards
Enterprise-grade
99.999% uptime SLA - provides redundancies and business continuity in the event of a Microsoft Teams outage
Global network - native PSTN in 44 countries with local numbers in 100+ countries
App integrations - to Microsoft and non-Microsoft environments
Enhancing your Microsoft Teams setup, together
With RingCentral Cloud PBX for Microsoft Teams, all communication and collaboration essentials live in the Teams application, driving productivity across your entire business. And remember: You're never alone when it comes to RingCentral. Our Professional Services team will help provide guidance throughout the entire implementation process, including configurations, testing, and training. Whether your business has tens of employees or hundreds, RingCentral is here to help grow your business— and not just grow your business, but also grow with your business.
RingCentral Cloud PBX for Microsoft Teams architecture

RingCentral + Microsoft Teams = Better Together.