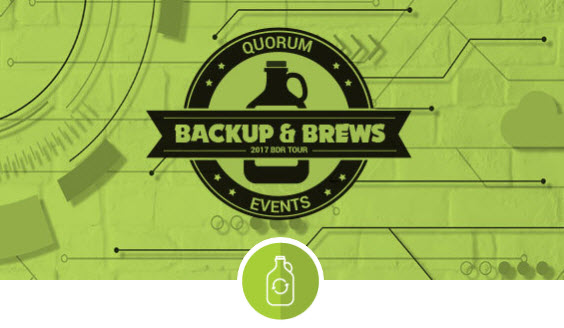 This is a fun and informative 'drop in' event to sample excellent craft beer and learn about the latest technology to protect your data.
Ransomware attacks continue at an accelerating rate and no one is safe. Join Quorum and Verteks for an informative session where we will cover how to best protect your business from downtime due to Ransomware attacks as well as internal threats using the latest in backup and recovery technology.
Feel free to attend the entire event, or drop by for a quick drink and appetizer - we have excellent food planned for every city.
AGENDA
5:30 pm: Happy Hour - Craft Beer & Awesome Food
6:00 pm to 6:30 pm: Verteks and Quorum present on reducing downtime and improving security, plus 5 Critical Steps for Ransomware Recovery
6:45 pm: Q&A
7:30 pm: Conclusion & Prize Raffle
---
Orlando - Tuesday, May 9th, 5:30 to 7:30
Orlando Brewing
1301 Atlanta Ave
Orlando, FL 32806
---
Ocala - Wednesday, May 10th, 5:30 to 7:30
Infinite Ale Works
304 South Magnolia
Ocala, FL 34471
---
Tampa - Thursday, May 11th, 5:30 to 7:30
Hidden Springs Ale Works
1631 N Franklin St
Tampa, FL 33602