Verteks Consulting Recognized for Excellence in Managed IT Services
CRN®, a brand of The Channel Company, has named Verteks to its 2018 Managed Service Provider (MSP) 500 list in the Pioneer 250 category.
FEBRUARY 20, 2018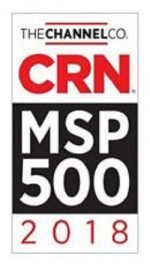 Verteks Consulting, a leading provider of IT solutions for business and government clients, announced today that CRN®, a brand of The Channel Company, has named Verteks to its 2018 Managed Service Provider (MSP) 500 list in the Pioneer 250 category. This annual list recognizes North American solution providers with cutting-edge approaches to delivering managed services. Their offerings help companies navigate the complex and ever-changing landscape of IT, improve operational efficiencies, and maximize their return on IT investments.
In today's fast-paced business environments, MSPs play an important role in helping companies leverage new technologies without straining their budgets or losing focus on their core business. CRN's MSP 500 list shines a light on the most forward-thinking and innovative of these key organizations.
The list is divided into three categories: the MSP Pioneer 250, recognizing companies with business models weighted toward managed services and largely focused on the SMB market; the MSP Elite 150, recognizing large, data center-focused MSPs with a strong mix of on-premises and off-premises services; and the Managed Security 100, recognizing MSPs focused primarily on off-premise, cloud-based security services.
Verteks provides a comprehensive suite of managed IT services that help business and government clients throughout Florida maximize the value of their technology investments. The Verteks team has expertise in a wide range of business technologies, and has developed sound methodologies for providing proactive maintenance and highly responsive support. Verteks also serves as a trusted advisor to its customers, helping them leverage the latest IT solutions to meet their business objectives.
"Managed service providers have become integral to the success of businesses everywhere, both large and small," said Bob Skelley, CEO of The Channel Company. "Capable MSPs enable companies to take their cloud computing to the next level, streamline spending, effectively allocate limited resources and navigate the vast field of available technologies. The companies on CRN's 2018 MSP 500 list stand out for their innovative services, excellence in adapting to customers' changing needs and demonstrated ability to help businesses get the most out of their IT investments."
"We are very proud to have been recognized by CRN for our managed services capabilities," said Don Gulling, CEO, Verteks. "Over the past 21 years, we have seen tremendous change in the IT industry, and have continued to adapt and refine our services to meet evolving business demands. But our core commitment remains the same. We help our customers maximize productivity and customer service by ensuring that their IT environments are fast, reliable and secure. I want to give a special heartfelt thanks to the team of dedicated professionals at Verteks who are the real reason we are receiving this recognition. I'm very proud to work with a team that continually delivers reliable and responsive support to our valued clients."
The MSP500 list will be featured in the February 2018 issue of CRN and online at http://www.CRN.com/msp500.
Tweet This:
@TheChannelCo names @VerteksConsult to @CRN 2018 MSP 500 list #CRNMSP500 http://www.crn.com/msp500
About Verteks
Verteks Consulting provides leading-edge voice, video and data networks to business and government clients throughout the U.S. With a focus on fast, reliable and secure IT solutions including Unified Communications and advanced networking solutions that improve efficiency, reduce costs, increase competitiveness, and improve customer service, Verteks helps its business and government clients confront the challenges of today's dynamic marketplace. Verteks provides turnkey solutions that include project planning, installation, onsite training and 24×7 support services — including a managed IT service solution called "Total System Care." that gives clients proactive IT support at a low monthly cost.