After only seven months on the market, WatchGuard's APT Blocker was voted Advanced Persistent Threat Solution of the Year, competing against products such as FireEye, Fortinet's FortiSandbox, and Palo Alto's WildFire.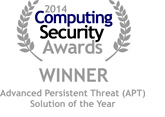 APT Blocker takes over where AV protection leaves off. It delivers real-time threat visibility and protection in minutes, not hours, focusing on behavioral analysis to determine if a file is malicious.
New! APT Blocker Promotion -  Now our customers can trade in a competitor's security product for a one-year or three-year UTM or Next Generation Firewall Bundle (Model 330 and higher) and receive one-year of APT Blocker for FREE. This is a terrific opportunity for our customers to have award-winning protection from advanced malware without spending a penny more.
Read more about the APT Solution of the Year award.