One of the coolest features in ShoreTel Communicator is 'Simultaneous Ringing', often referred to as Simulring, Twinning, dual ringing, or forking.  The feature was first introduced in ShoreTel 10.2 and is in all future releases.  With this feature enabled, a call to your extension will ring up to 2 additional phones in addition to your assigned phone, it also allows you to move a call from your primary phone to a secondary phone during a call.  The feature is enabled in Personal Communicator – so it's a free productivity tool.  It can be configured on a per Call Handling Mode basis, so you can really tailor it to your specific needs.  The feature needs permissions to be set up in Director (Class of Service Telephony) – see your system administrator.  The feature can be enabled on a ShoreTel phone by touching the "AddOn" soft key.  Touching the same key a second time disables the feature.
Here is where you configure it in Communicator: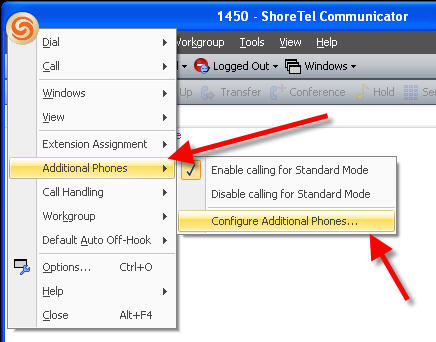 For your additional phones, you can use any of the following: a SIP phone, an external conventional phone, a cell phone, a Microsoft Office Communicator client – so pretty much any other device.  When a second call comes in, a call waiting tone / caller ID is presented on your active call, and all of your additional phones will ring.  The feature works with Call Manager and can be set up on a per Call Handling Mode basis, also the number of rings is configurable per device.  As a user of the system, you are in full control of the feature – able to turn it on or off, and able to choose which additional phones to ring.
Here is where you define the additional phones: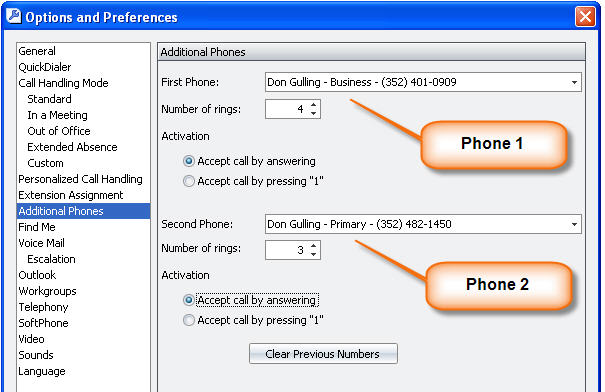 In addition to simultaneous ringing, this feature also supports 'Call Move' – a great way to easily move a call from your ShoreTel phone to your cell phone – and MOVE IT BACK.  This is a huge improvement for people that frequently travel out of the office and back that want to easily move calls from landline to cellphone and back again.
When you use the Call Move feature, you'll either press the Move soft key, or click the Call Move button in Communicator.  If you're moving the call from your ShoreTel phone to your cell, the caller will hear silence until your other phones is answered.  When you want to move it back from your cell to your ShoreTel phone, press the 'Move' softkey on your ShoreTel phone and the conversation is switched immediately back to your ShoreTel phone.  You can also use this feature from other phone types - to move the call:
From your ShoreTel Phone, press the 'Move' soft key
From your Mobile Phone, press *23
From a SIP phone, press *23
For existing Verteks Consulting customers, please call our helpdesk and we'll be glad to assist you in configuring this feature.  Call toll-free: 877-837-8357